January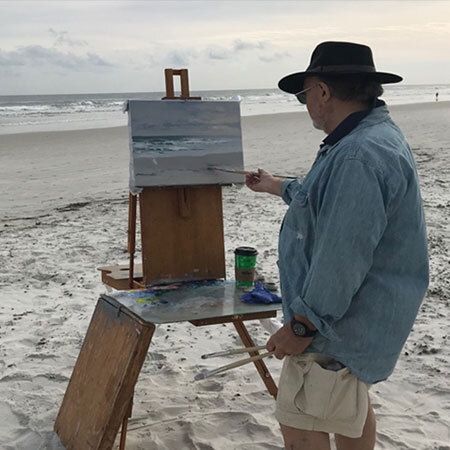 Frank Ferrante Pop-Up Exhibit
Show & Sale: January 6-8, 2023
Six oil paintings by Frank Ferrante will be on display inside our reception gallery from January 6th to 8th. The artist will give talk at 5pm Saturday, January 7th. A book signing will take place immediately after the talk.
---
ABOUT the ARTIST
frankpaintings@aol.com / frankferrante.com
Frank Ferrante graduated Rutgers University and Newark School of Fine & Industrial Arts in New Jersey. It was not until later in his career, in the 1980s, that he painted with John Phillip Osborne at the Ridgewood Art Institute in New Jersey. Osborne was influenced by the American Impressionist painter, Frank Vincent DuMond and his "prismatic" palette (originated in Paris, France 1880s). It is this method and palette that Ferrante uses with all of his paintings. Ferrante devoted all his efforts learning to capture the flow from light to shadow, atmosphere, weather and time of day in his year-round Plein Air (painting outdoors) painting sketches. He has been a studio artist at The HUB on Canal, New Smyrna Beach for more ten years. Ferrante regularly participates in many shows and has won many top awards. His paintings hang in many galleries throughout the United States, including The Daytona International Airport and New Smyrna Beach City Hall. He has been painting for over 50 years and has taught Plein Air and studio painting for over 25 years in and around New Smyrna Beach. He frequently gives oil painting demonstrations and workshops throughout the United States.