Opening Reception: Colored Pencil Society of America's 30th Annual International Exhibition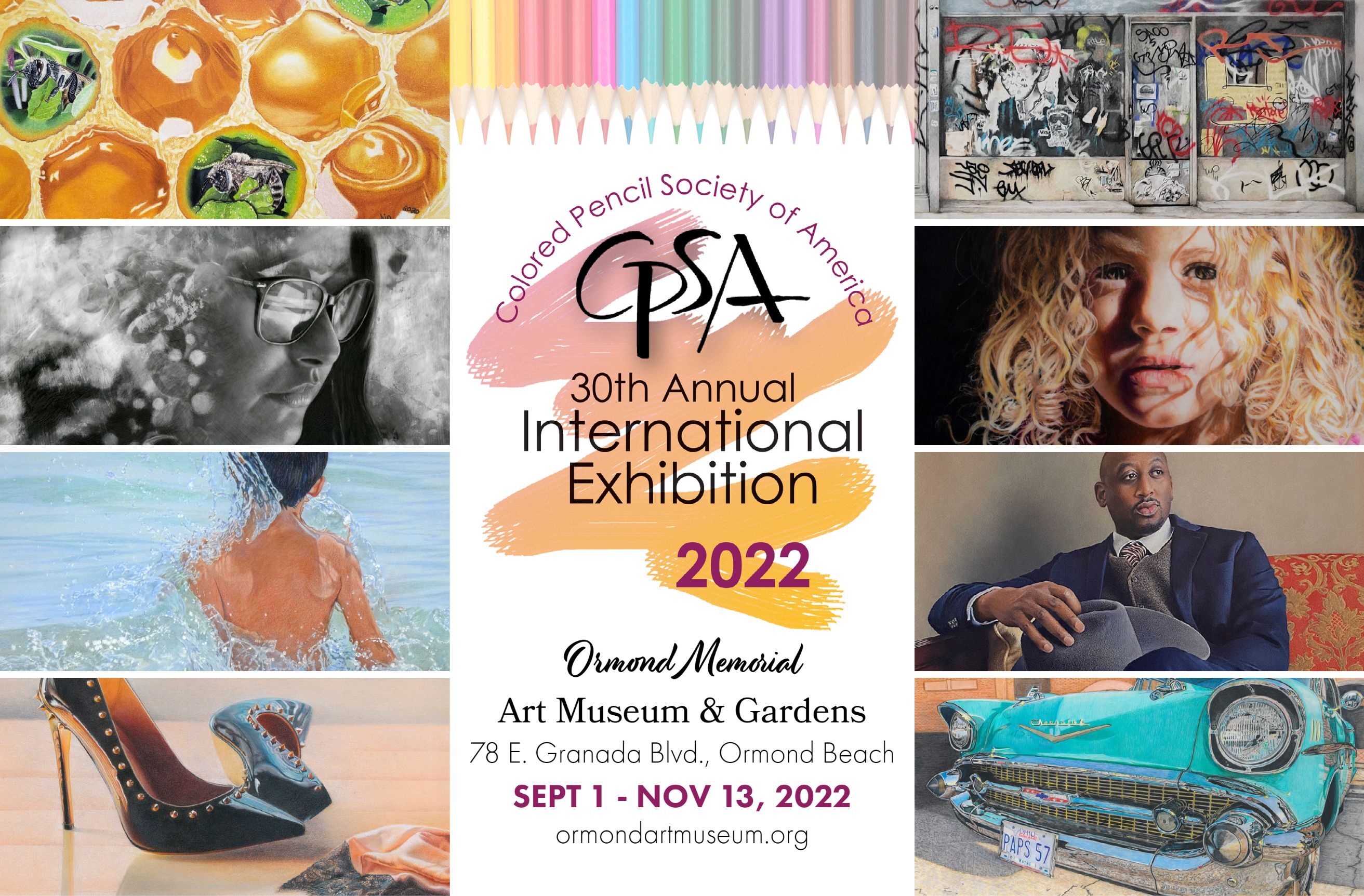 Opening reception for the "Colored Pencil Society of America's 30th Annual International Exhibition," which features work by more than 100 artists. Please join us from 6 until 8p.m. to view the exhibit, meet some of the exhibiting artists, and enjoy light refreshments and live music.
Meet the Artists
Anda Chance is an award winning artist, receiving recognition in local, national, and international shows for her colored pencil art. She has received commissions for public projects, publications and individuals. In addition to showing her own work, Anda curates and judges for local and regional art shows, art groups, public exhibitions and individual artists. Currently she works and teaches in her studio in McAlpin. She stays busy with gallery work, teaching workshops and working with local and regional nonprofits promoting the arts. At Arkansas Technical University Anda majored in Art and Art Education. She went on to earn a degree in Education at Florida Southern College. She is a Florida Certified Art Teacher and taught art for 16 years in the Florida public school system.
Chris Flanagan, CPSA
Chris Flanagan graduated with a degree in art education from Georgian Court University, New Jersey. Although she taught many different mediums, her favorite is colored pencil. Her interest in vernacular architecture has led me to draw many of the older homes and buildings in the North Florida area. She tends to draw subject matter from a different point of view, and prefer to isolate an interesting component of the buildings opposed to drawing the entire structure. She is a Five Year Signature member of the Colored Pencil Society of America, and currently serves as Vice-President of District Chapter 113, Gainesville. This piece, "City Drugs" is her sixth acceptance into the CPSA International Exhibition.
Melissa Miller Nece, CPSA, CPX, MAA | mmillernece.com
Melissa Miller Nece is regarded as one of the foremost colored pencil artists in the country. Her enthusiasm and humor have made her a favorite speaker for arts groups around Florida, and she has inspired many others to try colored pencils through her classes and workshops. She has been teaching colored pencil, drawing, and oil and acrylic painting at the Dunedin Fine Art Center since 1990. She has taught many workshops around Florida, and as far away as South Carolina, New Mexico, Oregon, and Wisconsin. Since 2008, Melissa has served on the national governing board of the Colored Pencil Society of America, as ways and means director, president, and currently as corporate relations director, cultivating a strong working relationship with art materials companies. She is a 15-year merit signature member and a CPX signature member of the society. She previously served two terms as president of CPSA District Chapter 113. She is also a signature member and board member of the Miniature Artists of America, a member of the Florida Artist Group, a trustee of the Professional Association of Visual Artists and a member and past board member of the Miniature Art Society of Florida. Melissa exhibits in Florida and in national and international juried exhibitions. Solo shows have been at Pasco Hernando State College (2009, 2015, 2022), Troy Hayner Cultural Center, Troy, OH (2021), St Petersburg College (2016), and Dunedin Fine Art Center (1996 and 2002). She was an invited artist in four shows at the Ormond Memorial Museum (2002, 2008, 2011 and 2012). She won Best of Show at CPSA DC113 show "It's Colored Pencil" (2019), the Lee County Alliance for the Arts All Florida Show (2017), Autumn Artfest in Live Oak FL (2011), the PAVA annual Members Show (2010 and 2021), and three times in the statewide Florida Artists Group annual shows (2001, 2006, 2009). She has nine awards in CPSA International and "Explore This!" Exhibitions. She was also a regular winner at festival shows, with the highest Awards of Distinction at Art Harvest (1996), the Palm Harbor Art Festival (1994), Lake Wales Art Show (1997 and 2003) and the PAVA Out of the Blue Festival of Art, Clearwater (2006). And her numerous awards from miniature art shows around the country include a Best of Show, nine First Place (medium and subject matter categories), and four Judge's Choice. Melissa finds inspiration in the Florida environment, particularly its beaches.
Galal Ramadan
Galal Ramadan is self-taught master colored pencil artist and photographer. He participates in solo and curated national and international exhibitions. His artwork is awarded Nationally and Internationally. His artwork and he were featured and authored of several articles published in International Art Magazines. He is teaching colored pencil classes and workshops at Bonnet House Museum and other several locations in South Florida. He is a signature member of several prestige art associations. He was born and raised in Alexandria, Egypt and resides in Fort Lauderdale, FL.
---
ARTWORK CREDITS FROM TOP (LEFT TO RIGHT): "Sanctuary" by Tracey Chaykin, California; "The Dog Had ONE Job" by Anda Chance, Florida; "Being Eleven" (CPSA Best of Show & CIPPY Award) by Tracy Frein, Illinois; "Awakenings" (Lyra/Strathmore Award for Exceptional Merit) by Bonnie Sheckter, Canada; "WhipSplash" (Award for Outstanding Achievement) by Melissa Miller Nece, Florida; "Good Shepherd" (CPSA District Chapters Award for Exceptional Achievement) by Tanja Gant, Texas; "Trying Too Hard" by Mona Weidner, Florida; "Eye Candy" by Susan Grimm, Ohio.