The Kiss: Master Copy Virtual Workshop with Kathleen Marquis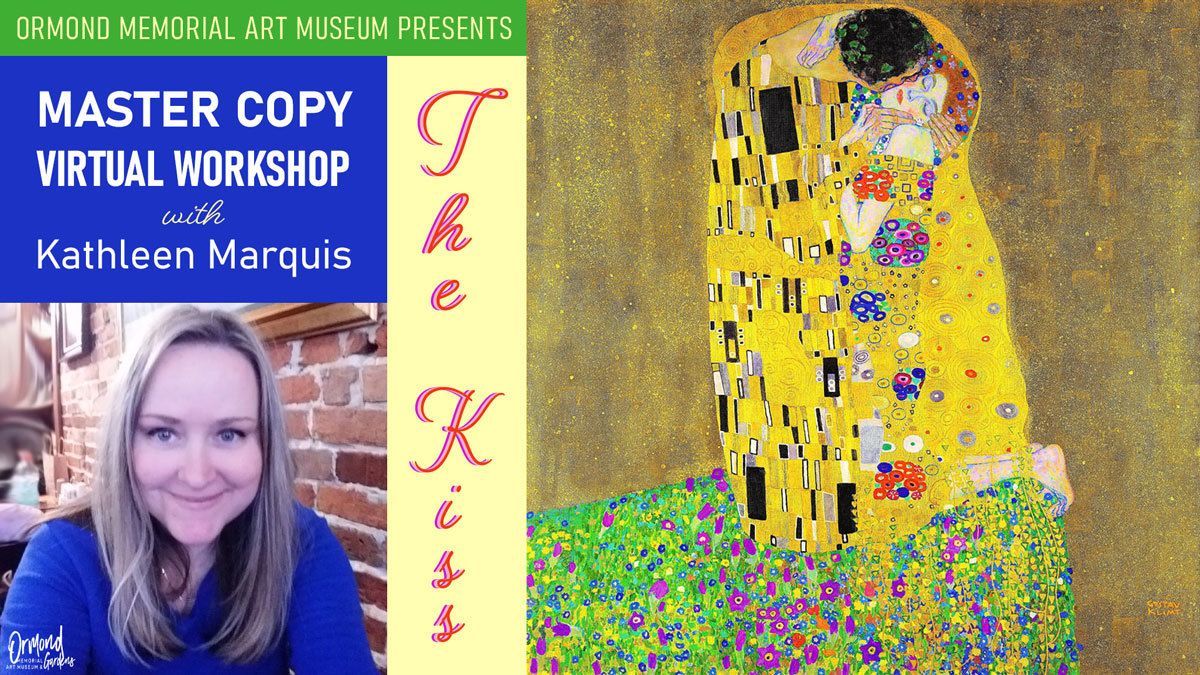 11 a.m. Wednesdays via Zoom: January 27, February 3, February 10
Registration Deadline: January 18 - Click HERE to register
This virtual workshop series will involve recreating Gustav Klimt's painting, The Kiss, as well as a discussion of the historical context of the painting; information regarding copyright, public domain, and free use of imagery; and an introduction to online resources. Through a guided process using a superimposed grid over a print of The Kiss, students will learn how to recreate the painting, one square at a time. In addition to learning this square by square rendering method, techniques such as painting light washes, proportions, collage, and speckle effect will be covered.
Why do a master copy? A master copy is a form of meditation on a work of art. It is an opportunity to contemplate the work methodically, inch by inch, paying close consideration to the artistic decisions made by the master who created it. As you focus on these individual choices, you will gain a greater appreciation for what went into the work. Ideally through emulating the artistic practices applied, you will inherit new skills to later adapt into your own works and style.
Each of the one-hour Zoom sessions will include the opportunity for reflection and discussion with the instructor and classmates. This workshop is appropriate for beginning-intermediate students. Most supplies are included; students are responsible for providing some supplies (see below). *Supply shipping is available for students in the United States.
SUPPLIES IN YOUR KIT
Color print of the image with grid imposed on top
20" X 20" Stretched Canvas
20" Ruler
Acrylic paint set and paintbrush set
Paint markers (set of 14)
Mod podge
Toothbrush
Please provide these supplies on your own:
pencil, palette, rags, water container, web cam or phone connection to Zoom (we request that you have a video connection so the teacher can see your artwork in progress).
*Note for students having supplies shipped: If you live outside of Ormond Beach, FL and would like to have your supplies shipped, you will be responsible for providing your own 18"x18" canvas and 18" ruler. Shipping is included in the price of the class.
ABOUT THE INSTRUCTOR: Kathleen Marquis
An encaustic painter by practice, I am passionate about art and use my enthusiasm for art to inspire and guide students in their own works. In teaching art, I hope to add a little happiness into the lives of those who I come in contact with (whether be it in person or online). As for my credentials, I received a Bachelor of Fine Arts degree in Mixed Media with a minor in Art History from Florida International University in Miami, Florida, and a Master of Fine Arts degree in Painting and Drawing from Pratt Institute located in Brooklyn, New York. I currently live and work in Ormond Beach, Florida, and have been teaching art and design for several years now.
WORKSHOP COST:
OMAM Members: $150
Non-Members: $167
Registration deadline is January 18th. Please call 386-676-3347 or email kheron@ormondartmuseum.org with any questions!