Two-Day Papermaking Workshop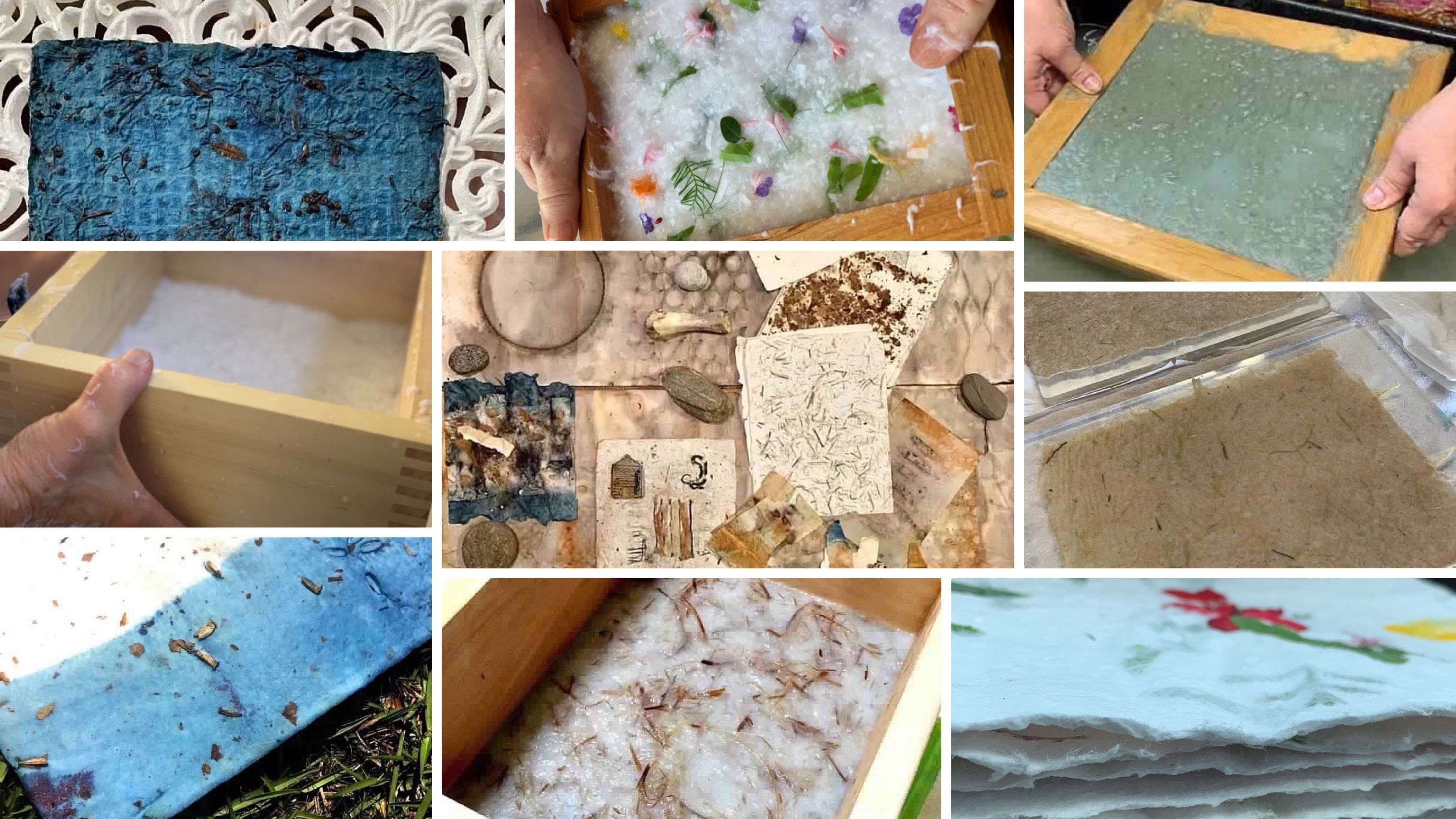 Please join us for a fun papermaking workshop! Led by artist Catherine Cross Tsintzos, this two-day workshop covers basic techniques of Western papermaking including sheet forming, pressing and drying. We will discuss fiber selection and preparation, followed by an overview of pigmenting fibers. We will use deckles, deckle boxes and assorted colored pulps to form sheets and explore the possibilities of laminating, embedding, and collage.
This exploratory papermaking workshop introduces participants to the extensive and malleable world of papermaking without the expensive and inaccessible facilities that prohibit artists from the process. Pulp painting, paper casting, alternative fibers and play are at the core of this inventive and experimental workshop. Through demos, collaborative making and DIY approaches to papermaking, the course offers techniques and strategies for papermaking that can be wielded at home, in your community or in the studio. In addition to making and casting paper, basic bookbinding techniques are introduced. Pulp painting, stencil pulp painting, pulp dying techniques, introduction to alternative and locally scavenged fibers, paper casting, basic bookbinding skills and DIY approaches to papermaking methods.
All supplies are provided for this workshop, which is open to participants 16 & older.
Class will meet in the Museum's newly renovated classroom. Please bring a bag lunch and a drink.
Important Details
♦ DATES: Tuesday, June 7, and Wednesday, June 8, 2022
♦ TIME: 11:00am - 3:00pm
♦ LOCATION: OMAM Classroom
♦ COST: $225 museum members; $248 future members
♦ REGISTRATION: Open to ages 16 and older
About the Instructor:
Catherine Cross Tsintzos an interdisciplinary/multidisciplinary artist with a focus on environmental and social issues, traditional fine craft and sustainability. She has a clear purpose in building and crossing a bridge among the arts with a deep focus and balance between artistic practice, teaching, activism and invitation for participation. Catherine has spent her life's work developing programs and teaching in the arts in the Southeast United States for all ages and abilities. She is a NC artist from Greensboro and spends most of her time in Florida where she has been actively involved with arts education at the Orlando Museum of Art for the past 15 years. Catherine works with arts organizations, museums and universities including Redux Contemporary Arts Center/SC, Orlando Museum of Art/FL, Frederick Book Arts Center, MD, Rollins College/FL, Duke University Continuing Studies/NC, Louise Wells Cameron Art Museum/NC, Greenville Center for Creative Art/SC and the Florence County Museum/SC currently. Her love for the element of surprise and process art have led her to work with mediums that include clay, paper, printmaking, book and fiber arts, alternative photographic processes, natural plant dyes and earth pigments. Through her museum work she has had the privilege to work with many national and international artists and works of art that have continued to scaffold her interest in being a lifelong learner and to keep the creative process fresh and invigorated with her personal art making. Catherine serves on the Board of the Rensing Center.