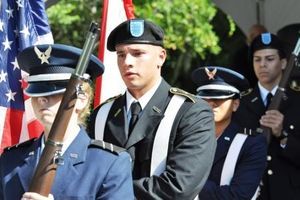 Join us for our annual Veterans Day Tribute with dynamic speakers, music, and a special touch of gratitude. The 2019 Tribute features speakers COL (ret) Hal Kushner, US ARMY, and A. S. Minor, US ARMY veteran. Minor is a spoken word poet and Kushner's military honors include the Silver Star, Bronze Star, Purple Heart, and the Republic of Vietnam's Cross of Gallantry. The retired Colonel was inducted into the Army Aviation Hall of Fame in 2001.
Music will be provided by Evelyn Shapiro and a string ensemble.
After the tribute, which will be held under a tent in the event of inclement weather, the Daytona Beach Pilot Club will provide refreshments inside the museum. Supplies will be provided for guests to write letters for local veterans.
The museum at 78 E. Granada Blvd., was founded in 1946 to celebrate creative freedom and those who defend it. Malcolm Fraser, a World War I veteran and artist, donated his entire collection of artwork and with the support of the Ormond Beach community and World War II veterans, the museum was built. There are tributes to veterans inside the museum and outside in the lush gardens.
Free parking for the Veterans Day event is available behind the Casements and St. James Episcopal Church.