Crazy Paper
FREE FAMILY ART NIGHT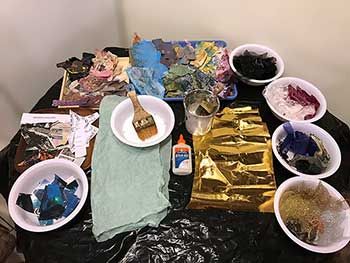 Michelle Davidson, local artist and OMAM team member, demonstrates how to make Crazy Paper! Watch her transform items from around your house into a piece of art by using a little glue and a lot of imagination.
Gather these supplies below and then watch the artist's tutorial:
Large white or black trash bag
Bottle of Elmer's glue or Mod Podge
Paint brush (preferably 2-3 inch)
Mixed media materials (tissue paper, magazine clippings, fabric pieces, string, beads, glitter, screen, etc.)
You'll also need a large, flat work surface, like the kitchen table!